RPAG Back to School | Target Date Tutor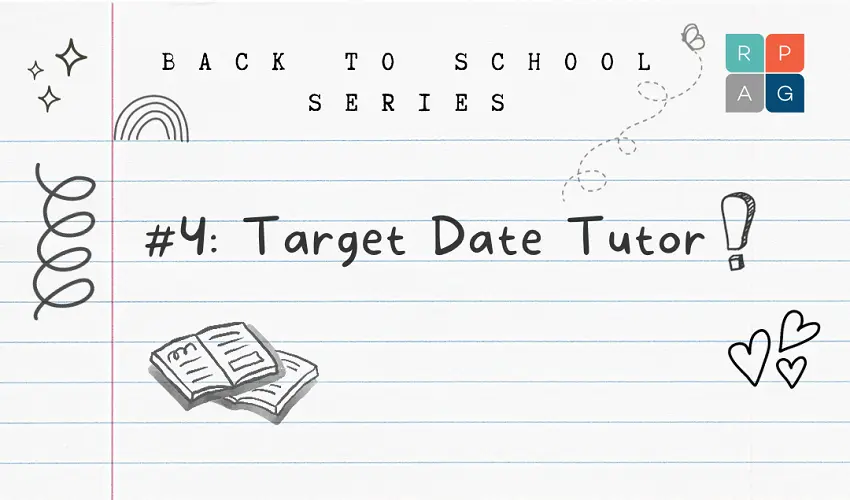 Attention all curious minds! Are you ready to embark on a captivating journey into the world of investments? Join us for our next class, where we'll unravel the mysteries of Target Date and Stable Value Analyzers, making finance as exciting as exploring a new subject in school.
Imagine gaining a deeper understanding of Target Date Funds (TDFs), just like cracking a complex puzzle in class. We'll guide you through their nuances and unveil their hidden potential. And that's not all—get ready to discover the fascinating world of Stable Value Funds, the unsung heroes of the investment realm. Think of them as the intriguing characters of a story, promising principal preservation while potentially offering higher interest rates.

Don't miss out on this chance to become a financial explorer! Join us as we demystify investments and equip you with the knowledge to make more informed decisions.
Presenters:
Lauren Neeno, Plan Advisor, RPAG
The Significance of TDF Suitability
In the ever-evolving landscape of retirement planning, TDFs have gained significant popularity. The variations in risk levels among different target date funds highlight the importance of a comprehensive selection process. With the potential for substantial differences in outcomes for plan participants, it's crucial to understand the intricacies of each fund's strategy and risk allocation.
With the constant change in the retirement industry and with the investment world, target date funds have been an up-and-coming solution for advisors and participants. It is important to fully understand the differences between each target date fund and their glidepaths. Each individual TDF have varying qualities, so learning each fund's risk rating and aligning them with a plan's demographic is imperative for ensuring a more personalized experience for participants.
Key Considerations in Target Date Fund Evaluation
Know exactly what each fund contains and why.
Learn what fees are associated with each fund. The cheapest option might not always be the best for every plan.
Communicate with participants so they fully grasp what their options are. Utilize the Participant Memos from our Resource Center or work with Venrollment to assist your communication efforts.
Document EVERYTHING. Our Analyzer tool helps you document your entire process to make your life easier.
Navigating the Stable Value Fund Landscape
Stable value funds serve as essential components of retirement plans, offering capital preservation and steady returns. RPAG provides customized fact sheets and a stable value analyzer tool to aid in the evaluation and comparison of various stable value fund options.
The Power of RPAG's Tools and Resources
The RPAG system offers a comprehensive suite of tools, including the Target Date Fund Analyzer and Stable Value Analyzer, designed to simplify the evaluation and selection process. These tools not only facilitate due diligence but also serve as valuable resources for client education and prospecting.
As the retirement planning landscape continues to evolve, it is imperative to stay informed and equipped with the necessary tools and strategies for selecting suitable target date and stable value funds. RPAG's comprehensive approach and user-friendly tools aim to empower financial professionals in making well-informed decisions for their clients' retirement plans. Should you require any assistance or have further inquiries, please do not hesitate to reach out to RPAG support for guidance and support.
Haven't seen our other Back to School Webinars? Watch the ones you missed below!

RPAG Orientation
Elevate your skills in data analysis and fiduciary tools. Don't miss this opportunity to enhance your retirement planning expertise!
Learn More!

Benchmarking 101
Say goodbye to last-minute scrambling and gain confidence in benchmarking any plan. Streamline your workflow, impress clients, and elevate your benchmarking skills here!
Learn More!

Scorecard Methodology
It's like a report card for funds, making your job easier. Equip yourself to excel in strategic investments and ace fund evaluations!
Learn More!


AP Advisor Marketing
Learn to create an impactful marketing approach as an RPAG Advisor. Discover the Dos and Don'ts, leverage RPAG's Premium Marketing Content and services, and elevate your marketing game for remarkable business success!
Learn More!


________________________________________
Looking for more information?
Contact the RPAG Support Team, support@rpag.com, to learn more about RPAG, get help with our Platform, or anything else!
Not an RPAG Member?